Social media marketing is the process of gaining website traffic or attention through social media sites. Social media marketing programs usually center on efforts to create content that attracts attention and encourages readers to share it across their social networks. The resulting electronic word of mouth (eWoM) refers to any statement consumers share via the Internet (e.g., web sites, social networks, instant messages, news feeds) about an event, product, service, brand or company. When the underlying message spreads from user to user and presumably resonates because it appears to come from a trusted, third-party source, as opposed to the brand or company itself, this form of marketing results in earned media rather than paid media.
– wikipedia
Social Media Marketing can improve brand recognition and brand loyalty, drive website traffic and conversions, lower marketing costs and improve search engine rankings. Let us help you develop an effective social media marketing strategy. We design social media pages, consult on marketing strategy and message, and implement social media advertising campaigns.
Do you know?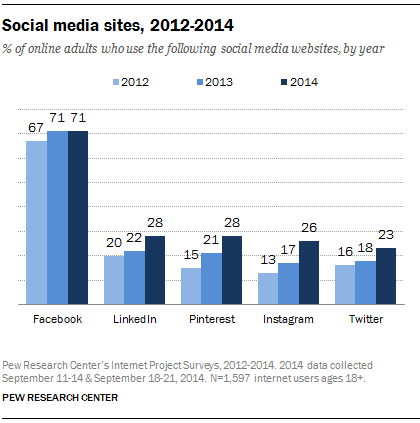 How to pick the right social media network for you?
Here are some general rules you can apply:
Facebook has a large user base, you don't want to miss it.
Use Twitter to reach the younger generation.
Pinterest, Instagram are great for sharing pictures
Video sharing sites such as YouTube or Vimeo are fantastic marketing tools
LinkedIn is great for business and professional networking.
Don't forget Google+ — the social media outlet of the biggest search engine.
Location-based networks such as Yelp.
We will study your business, and setup a strategic social media marketing plan just for you.