Current SEO results of local business Boston Evening Therapy Associates: 1.77k monthly SEO clicks and 268 page 1 keywords out of 667 Organic keywords.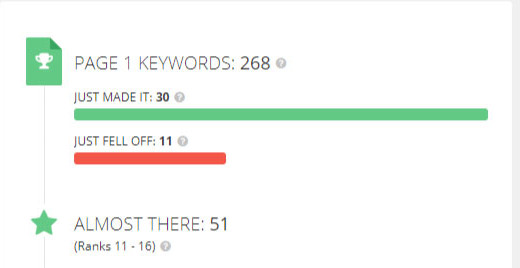 Long Term SEO Efforts Pay Off
Back in 2013, Boston Evening Therapy Associates Director Aaron contacted us. They were hoping to increase online visibility in order to convert to business. They have an brochure type of website with a blog. The average traffic was 850 visits monthly, with no strong keywords. After we communicated with our client, we  agreed on a marketing plan that emphasized organic SEO. The strategy was to optimize existing content with am emphasis on the primary keywords used by potential clients and to add optimized blog content to the website. The goal is to have more keywords and stronger keywords. The content strategy is commonly used in building organic SEO. It takes time to see the results, but it can build solid foundation and gradually increasing Google site ranking. It is good for long run.
Organic SEO takes time. You need a long term strategy. From 2013 you see steady, strong increases in traffic:
| | | | | | | | |
| --- | --- | --- | --- | --- | --- | --- | --- |
| Year | 2013 | 2014 | 2015 | 2016 | 2017 | 2018 | 2019 |
| Traffic | 14709 | 16854 | 19250 | 24425 | 38597 | 61696 | 77346 |
This is a local business, based in Brookline despite the name. This has been a mainly organic SEO effort along with social media promotion. They rank well for the basic terms related directly to their practice, and most search clicks land on business relevant pages like the home page, and pages directly related to the practice like the cost of therapy, and therapist pages.

You Can Get First Page Keywords from a Small Focused SEO Effort
| | | | | |
| --- | --- | --- | --- | --- |
| Query | Clicks | Impressions | CTR | Position |
| boston evening therapy | 660 | 1320 | 50% | 3.15 |
| dbt skills for suicidal ideation | 27 | 73 | 36.99% | 3.45 |
| dbt suicidal thoughts | 21 | 49 | 42.86% | 2.04 |
| dbt suicidal ideation | 19 | 40 | 47.5% | 3.15 |
What you can see from these partial search query results (from Google Search Console) is that a couple of blog posts in a relatively obscure therapeutic field, say "dbt for suicidal ideation", you can get first page search results and clicks with relatively modest organic SEO effort.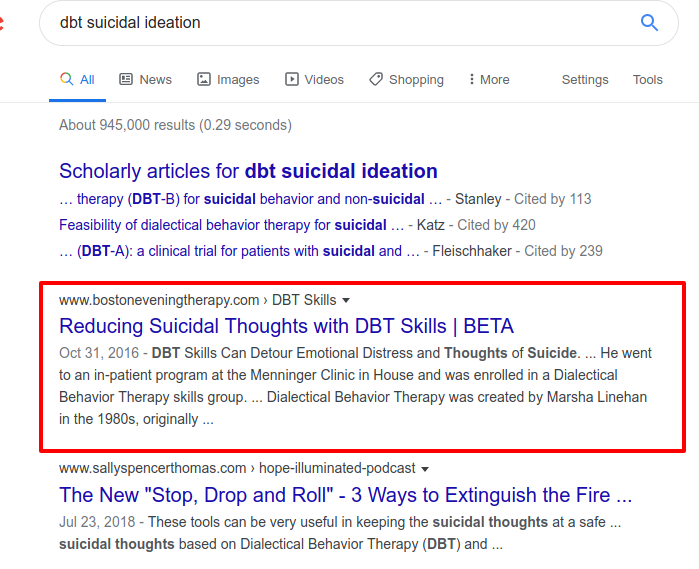 This was a small campaign at BETA organized consisting of a small group of pages and posts about a new therapy service, a page for the DBT therapy group, and 2 blog posts, and some tags.
If you look at the search results above you will note that the BETA title is much more directly focused on the topic, and is therefore more SEO-focused and searchable, than the "clever" title below, The New "Stop, Drop, and Roll" etc. Clever, yes, but would you click on it at first glance in your quest to learn more about the topic?
In the following years, we have non-stop worked on the website SEO and marketing. We also redesigned website twice to make it more user friendly and visually appareling.  Now what you see, it is a brand new redesigned website just launched in the beginning of 2020. We followed the data doing what data shows. since 2013, we helped our client increase the site traffic from 850 visits per month to 5500 visits per month, and it is still growing rapidly. Now our client opened 3 more locations, hired more people.

We are honored to hear what our client say about us:
I have worked with Fan and Mike at BBDS Design for a number of years. They have helped me build my practice and dramatically improve my website. I am grateful to them for their meticulous personalized attention they have and continue to provide for me. I am delighted to offer them my highest recommendation."

Aaron Gilbert
For the results achieved, we are happier than our client. This is what we love to do, and it can help our client. Nothing better than win-win business!
Here is how BBDS Design can help you achieve the same result:
Your web site should have a logical structure that reflects the nature of your business and products.
Each page must be SEO optimized.
You need a top to bottom SEO plan.
Organic SEO takes time. It needs continual work over time.
You need a consistent metric to analyze results over time.