Get page 1 results for your local business search. We are going to show you how to rank higher in local search by improving your Google Maps Listing.
Why bother to rank higher in Google Maps?
Search prominence. It is eminently doable. Read on to find out how.
1) the Google Local search results box, sometimes referred to as the "7-pack", just under the top paid ads, is a very visible placement for local businesses, and
2) ranked results on the Google Maps page. For both search and maps results you want your business to be as prominently placed as possible.
On the search results page, that translates to highly ranked (near the top) and listings in several places: in the top-of-page ads if you run ads, in the local search result map and listing, and near the top of the organic search results. Multiple placements lends credibility to your business – each result reinforces the others. Also, the local map listing draws the eye and is very prominently placed. The review stars are eye-catching and can further bolster reputation. The way to get you business listing in Google Local and Google Maps is to claim your business in Google My Business (GMB) and to improve your rank you must optimize your GMB profile.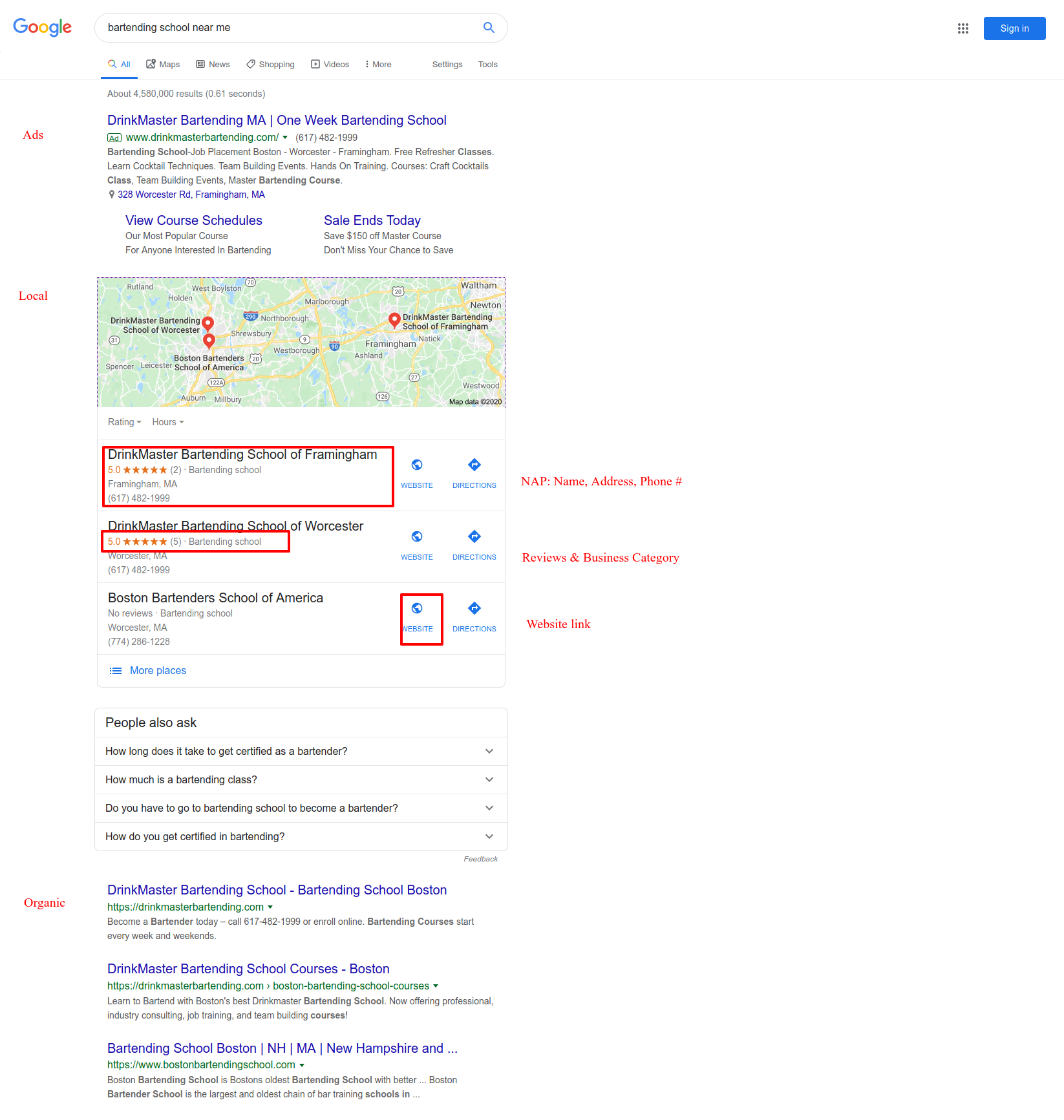 Clicking on the map in the Google Local search result, or searching Google Maps directly, gives you a map with pinned results and a ranked list of those results with business name, city and state of location, and phone number, along with links to their website, if any, and to directions.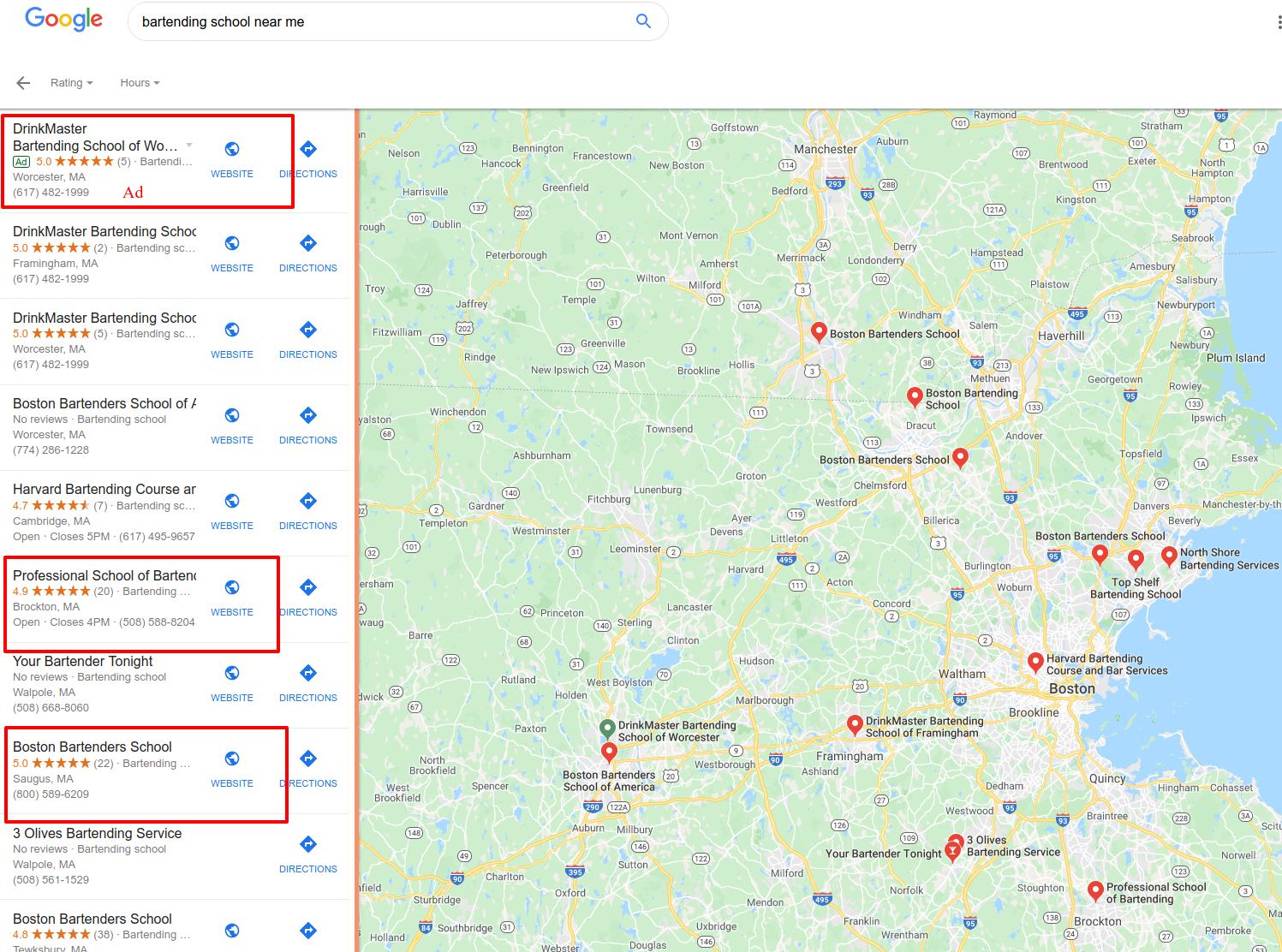 The lengthier list gives some hints as to the ranking criteria. The category of "bartending school" is narrow and appropriately used by all the listed businesses. It is clear from inspection that distance from the searcher is a key ranking criterion (this search would be geolocated, via IP address, to Ashland MA). The top 3 organic (unpaid) results are roughly equidistant from the search location. Reviews are a secondary ranking signal – note that Boston Bartenders School of Worcester ranks below the Drinkmaster school at the same distance.
Maps / Local search ranking factors:
Keyword / category match
Location / Distance
Review number and review quality
Website
Quality of Google My Business Profile
Google is a natural laboratory so you can do your own searches to assess the ranking factors for yourself. Google itself will never reveal its ranking factors. The exact mathematical contribution of those five factors is unknown, but most of these factors are entirely within your control.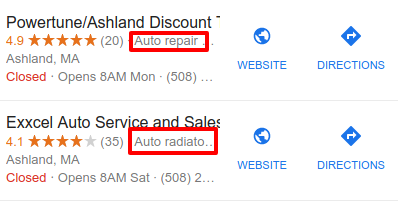 The best advice we could give you for improving your rank is to model your internet business profile on those of your top competitors. For example, choosing the correct business category is often more difficult and less obvious than you would think. If you check the results of your competitors in Google Maps, then the business category will be obvious. A business categorized as "auto repair" will do better in a search for "auto repair" than one categorized as "auto repair radiator service".
Here are my top tips for improving your Google Local and Google Maps ranking. Each tip is described more fully below.
Claim your Google My Business Listing (GMB) and verify it
Complete your GMB business profile with local phone number, business hours, photos, category, and description
Get customers to review your business on Google
Have a consistent NAP (Business Name – Address – Phone number) across all web listings
Include a microdata or schema business description on your website
Embed a Google map on your website. This is another localization signal.
Include location keywords in your website.
Claim your Google My Business Listing
You can claim your business from the main Google search results page or Google Maps. Search your business in Google. If you get a sidebar listing, look for the "Own this business?" or "Claim this business" link which will indicate the business is unclaimed. Click that link and follow the procedure.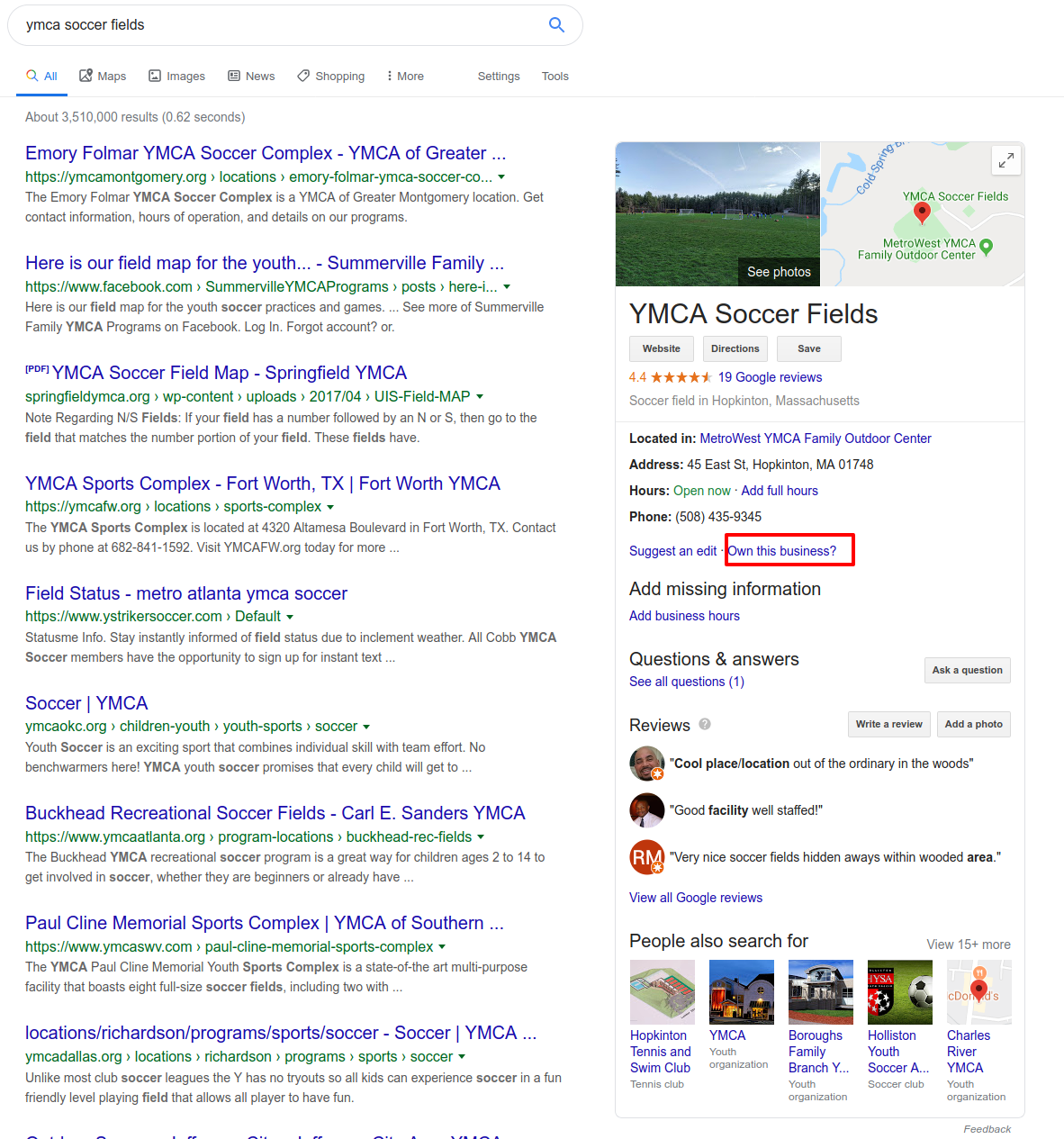 You will have to log on to Google My Business with a Google-registered email address or register for a free Google account. You will see something like this if the business is unclaimed: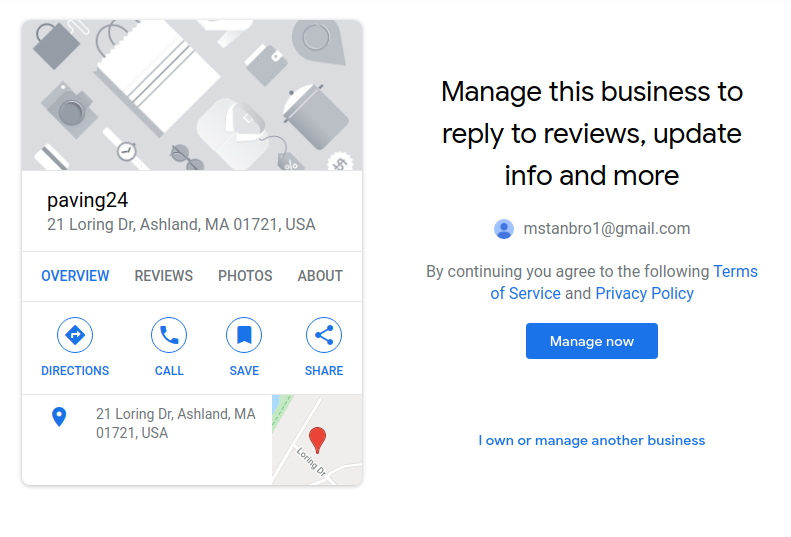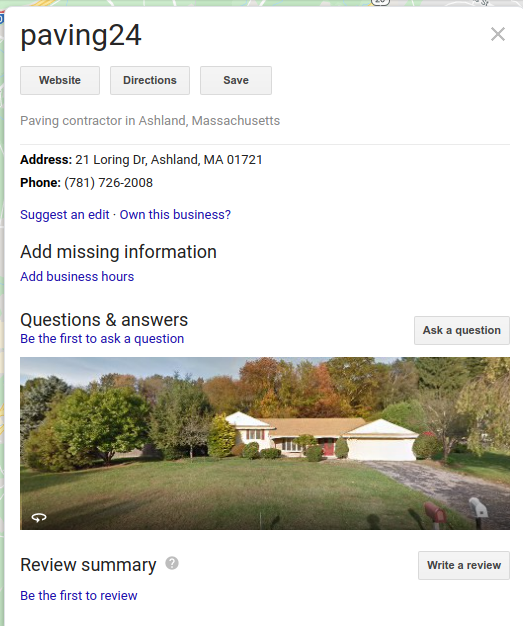 The cues you get in the Maps listing depend on whether you are logged into a Google account or not. The paving24 business has a "Own this business?" link when not logged in (above) and a "Claim this business" link when logged in (below). A business which is claimed does not show these links. A business which shows "Manage this listing" has been claimed but not verified.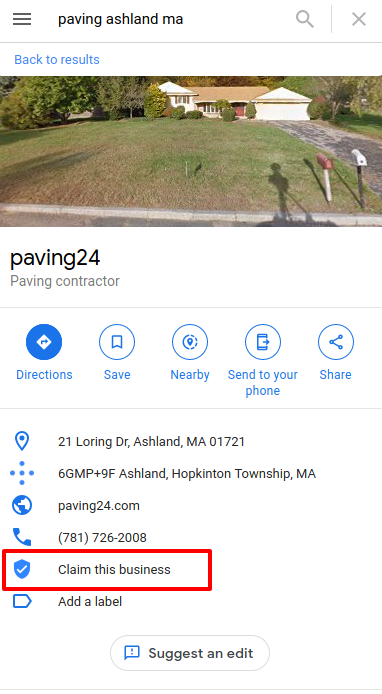 The steps to claim your business from Google Maps are much the same and perhaps easier as you can definitively identify the location of your business. If your businesses web presence is weak or mixed, or you cannot find the organic search result, Google Maps is probably the route of choice to claim your listing.
Google My Business is the Google service in which you can submit information about your business, including address, phone, website,hours, description, and photos. The GMB profile (below, in the "info" tab of Google My Business) is the basis of your Google Maps listing and the quality of your profile is a major ranking factor for Google Maps. It is crucial for businesses with a physical location to verify it with Google, typically by requesting a verification postcard from Google then submitting the code upon arrival.
Further info directly from the Googleplex: add or claim your business listing and request ownership of a business profile; here is Bing Places for Business, the Microsoft equivalent. Yahoo still accounts for 12 percent of desktop searches in the US, and you can apparently still claim a free business listing via their partnership with Yext, but be warned their real business is selling you a service to control your business listing across a constellation of 50 or more online services. For most truly small businesses I think Yext is overkill – you can address inconsistencies among your various online profiles yourself if you are persistent.
Complete Your Google My Business Profile
You want complete, correct, canonical information about your business including the address, main telephone number, website URL, and hours of information. Below is the profile edit page of BBDS Design – the Info tab of the GMB admin (top on the left and bottom on the right):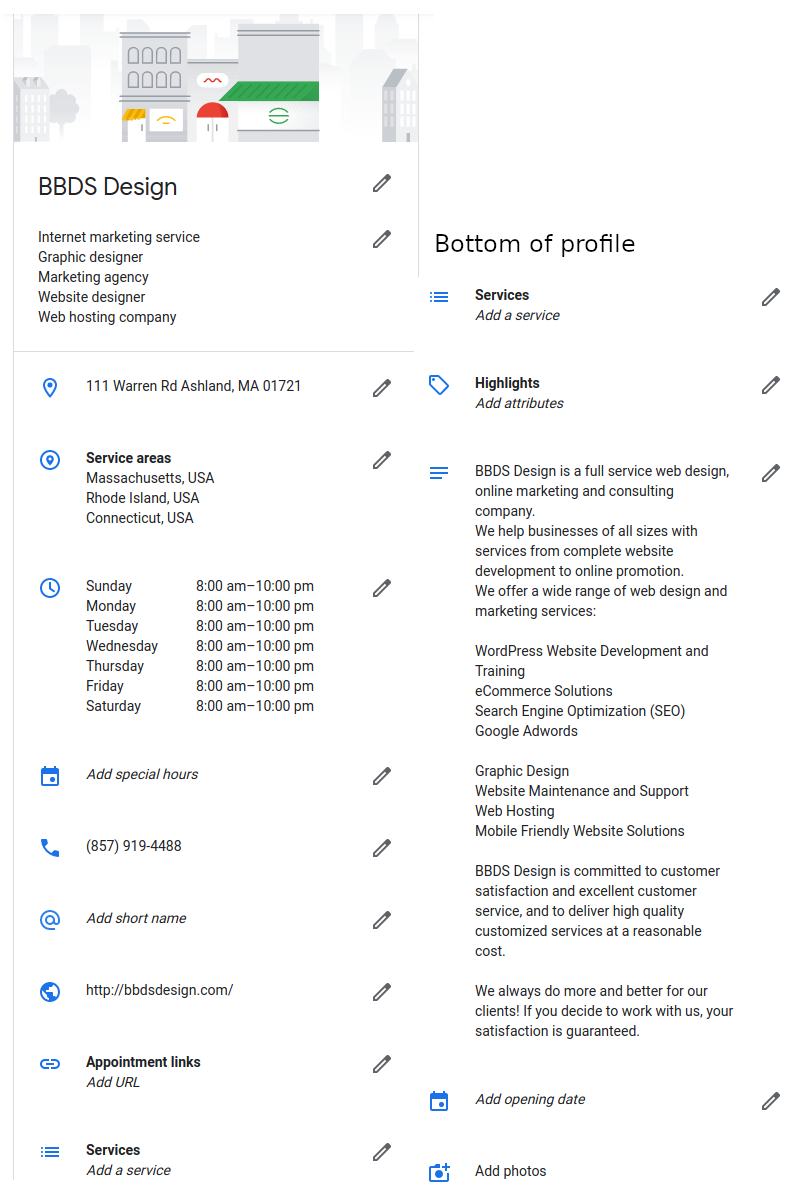 Note the categories just below the company name – these are both relevant keywords and are the primary activities of the business. Only the primary category is displayed to the public, so choose carefully.
Compare your profile to those of your competitors to determine best practices. Good photos that illustrate your location, products or services are a plus.
Google My Business Reviews Lend Authority to Your Listing
Provide a link to your GMB listing so customers can review your business – they must be logged in to a Google account to leave a review. Reviews on your website don't count as Google considers them "self-serving,", but they are not a down-ranking signal either. The only reviews that count are those left for the GMB profile.
In addition to conveying authority, relevance and customer satisfaction, the review stars are in color and naturally draw attention. I always scan listing on the basis of reviews first.
Have a Consistent NAP (Name-Address-Phone) Across All Web Listings
This is the first rule for optimizing local search results, but I would only worry about the top 10 or so, unless you know your customers use lesser known directories. Career-specific directories, such as legal directories are another matter. As search has improved with machine learning and increasing context-dependent searches, directories like Yahoo (closed in 2014) have become less and less important.
The NAP must be exactly the same across the web properties most relevant to your customer base. In practice, that means the business listing services of the major search engines (Google My Business, Bing Places for Business, and Yahoo Local. You only have to register once in Google and Bing to effect changes both in search and maps.
Include a Microdata / Schema Local Business Description in Your Website
According to Search Engine Journal, "Schema markup, found at Schema.org, is a form of microdata. Once added to a webpage, schema markup creates an enhanced description (commonly known as a rich snippet), which appears in search results." SEJ further states that rich snippets improve visibility and click through rates.
There are many types of schema but the relevant one for businesses with a physical location is "local business." This entry is often no more than a NAP plus operating hours, but if you look at the local business entry at Schema.org, you will see there a wealth of possible entries. The beauty of schema is that search engines really love them — it is easy for them to slurp up those name-value pairs as they are "structured data." We have seen incredible turn around time for the indexing of schematized pages like job listings – published and submitted to Google Search Console in the evening and in the index the next morning. It is possible also to include reviews of your business in schema, but note that Google will only use reviews not on your website.
Google has a markup generator (log in with a Google account) – you want the local business type to start. The helper will walk you through creating the microdata tags. Once you have the code, you must integrate into your website, by, for example, writing it into your website header or footer. You may need a developer help you do this.
If you are using a CMS like WordPress, you could simplify matters by using a plugin. The available plugins were rudimentary a few years ago but have been improving.
Once you have integrated the microdata code in your site, be sure to check it with Google's Structured Data Testing Tool.
Schema are still evolving and are incredibly powerful. I urge you to look into this further.
Embed a Google Map into Your Website
A typical location is the About Us or Contact page. It is another distinct location signal to search engines.
Include Location Keywords in Your Website
Name – Address – Phone number in the footer of every page of your site. NAP on the Contact page, etc.
Remember that you are signaling both search engines and customers. You need to make it clear to customers where your business is. It is obvious that it has to be obvious but I could tell you stories …
The point of this post was to show you how to make it obvious to search engines that your website represents a local business and locates it. It isn't hard, yet you must dot the i's and cross the t's.