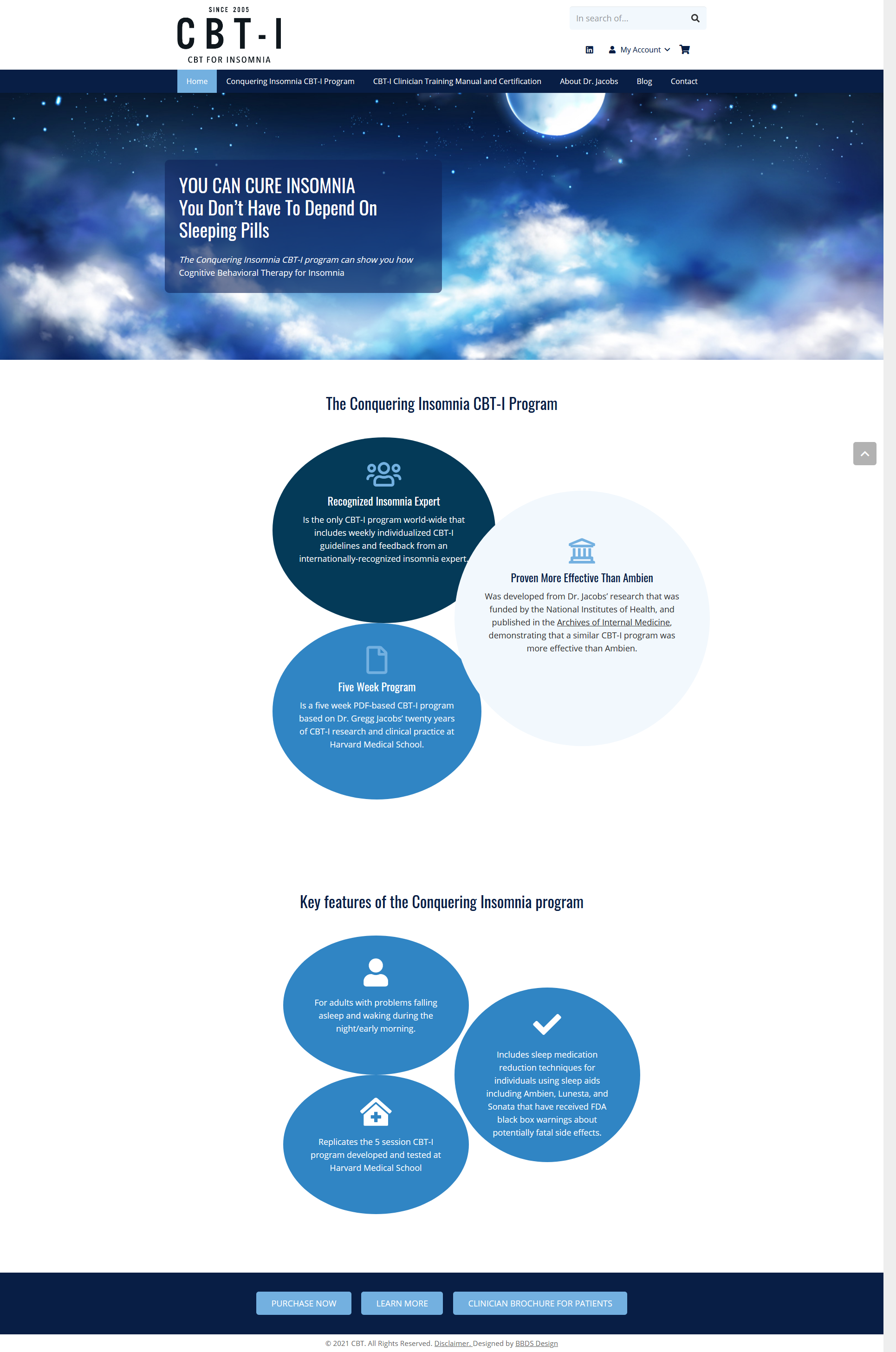 Project Detail
Client: CBT for Insomnia
Features: Therapy Website, Blog, Responsive
Category: WordPress, eCommerce, Membership
Project URL: www.cbtforinsomnia.com
There are two basic models of monetizing websites: selling products and services, and selling access to protected content via memberships.
For this project, the client had two requirements. One is selling e-products online and to manage the orders and inventories easily. Another one is access restricted content, and for users can manage their accounts and access their content on an ongoing basis. The combination of WooCommerce plus WooCoommerce Memberships solved met all the customer's needs.
A membership solution 100% integrated with your content and products.
WooCommerce Memberships is used to restrict the site content: it's an easy-to-use, site-wide membership solution that brings your content, shop, and memberships together. It allows you to create an entire membership system that's seamlessly tied to your store. It can restrict the content to members, but you can also "drip" that content over time to schedule when members have access. Sell access to memberships, include memberships with product purchases, manually assign memberships, and completely integrate member perks within your store.
The features include but are not limited to:
It

 gives you more control over how members begin using your site and lets you introduce members to your content at your pace.
When you use this with Subscriptions, you can even determine which content is included in a free trial period with content dripping rules.
Memberships lets you create members-only products so that your site can become a purchasing club, or let you offer certain products exclusively to members.
You can restrict product viewing to members, which means these products will be hidden from non-members in your shop. You can also restrict purchasing, which means that products are public, but only members can buy them.
You can also drip product access so that members don't get access to products immediately.
Offer Better Shipping Options to Members
Reward Members with Special Discounts
Automatically Show Members Their Perks
Import or Export Members

Easily

Simplify Communication with Membe

rs

You can also use expiration and renewal reminder emails to let members know of ending memberships and prompt them to renew or upgrade.
Selling Memberships to Companies or Groups
WooCommerce is a great ecommerce solution that is owned by the creators of WordPress (Automattic). It is highly extensible and is actively maintained.