Start your online business now! We will show you how from A to Z, in simple steps.
You can use this period of enforced isolation to explore starting an online business. You may wonder how you can make money from an online business. In general, if you have services to offer, or products to sell, then you are ready. Of course we know it is not a panacea or an instant money maker. The good news is you even can turn your hobby into a business, and then you will be making money doing something you love.
To start an online business from home, there are 6 steps to take:
Research your niche
Buy a domain name
Purchase a hosting package
Set up a website
Learn online marketing
Practice on your website
Do it over and over
1. Research your niche
No matter whether you want to sell products online or do online consulting, there is no new business — just as in the Mark Twain quote that "There is no such thing as a new idea". What you do need to do is to execute better than your competition. As a new business you probably can't be better at every aspect of business, namely price, but you do need to focus relentlessly on those aspects of the customer experience within your control, such as customer service. And your website is entirely in your control, so make it the best you can. On the road, speed kills, but on the information highway lack of speed is a true business killer.
Some people already know exactly what business they want to be in, or they are simply extending their existing business into the online space. Lucky you! Others need to do some research to find their niche. For most people, it isn't a good idea to start a business without a good idea about their business model, about the kind of product or service they want to sell. If you spread yourself too thin, you won't have enough energy to focus on what you are really good at. Go to your favorite search engine and do your own search. Think of yourself as your future customer, how do you want them to find you over the internet? Try different search terms, make a list. This is also the best time to learn your future competitors. Don't be scared, you don't have countless competitors; basically in any industry, you have 10 competitors and they are on your search results page one. This sounds promising, we will come back to this point in when we focus on marketing.
Once you have done your search and generated a list of search terms, you need to narrow down the options. Google keywords planner is a free tool you can use to help you quickly refine the results. Google keywords planner is free, you need to register an account with Google Adwords in order to use the tool. You may be asked to enter your credit card info, which is fine, since there is no charge on your card until you go through the multiple steps required to initiate an Ads campaign.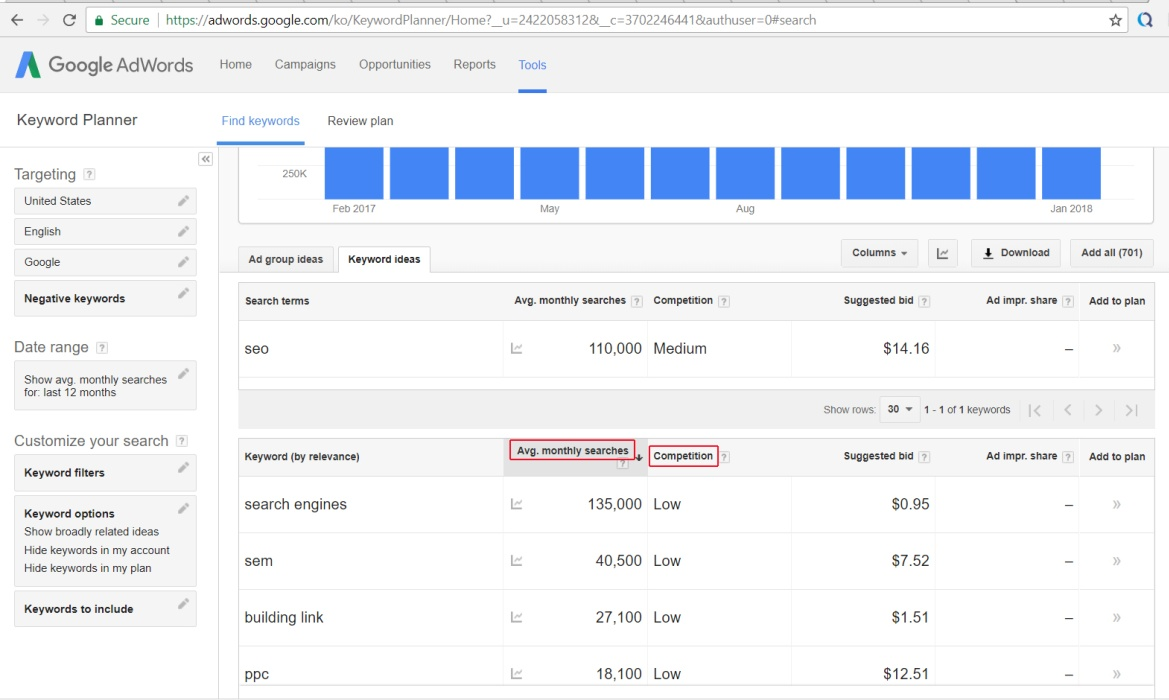 When you use keyword planner, pay attention to two indicators, average monthly searches and competition. The niche terms should have high monthly searches and low competition. Competition in the keyword planner refers specifically to Adwords keyword bidding competition, but you can use it as an indicator of organic keyword competition, and assess the intensity of the competition for a keyword by looking at the SERP (Search engine results page) results. When the SERP is highly optimized – exact keyword in snippet title, URL, and metadescription for most page 1 results – the competition for that keyword is intense and breaking onto page 1 will be hard.
For instance, you are a chef. Now you have time to sit down to think about how to build an online business. "Chef" is a too broad to define yourself online, then maybe you can find your niche as "private chef", "vegan chef" or "Sushi chef". By doing this work, you will quickly see your online opportunities.
We have a in-depth blog How to find the best keywords for your business with free keyword research tools?. It will give you some good ideas.
2. Buy a domain name
You found your niche, lock it with a domain name. A domain name costs about $15-$20/year, A good domain name is the first step in your successful online business. But don't fret endlessly over not being able to get the perfect keyword-rich domain.
We listed some basic rules when you are doing domain purchasing.
.com is still the best extension
Use keywords in your domain name to increase the search visibility
Keep your domain name short
Make it easy to remember
Avoid hyphens in the domain name
Search your domain name on Google
Use domain generators to get ideas
Act quickly before someone else takes it
We can buy a domain name and manage it for you, sign up on https://wpziphost.com/annual-hosting/.
3. Purchase a hosting package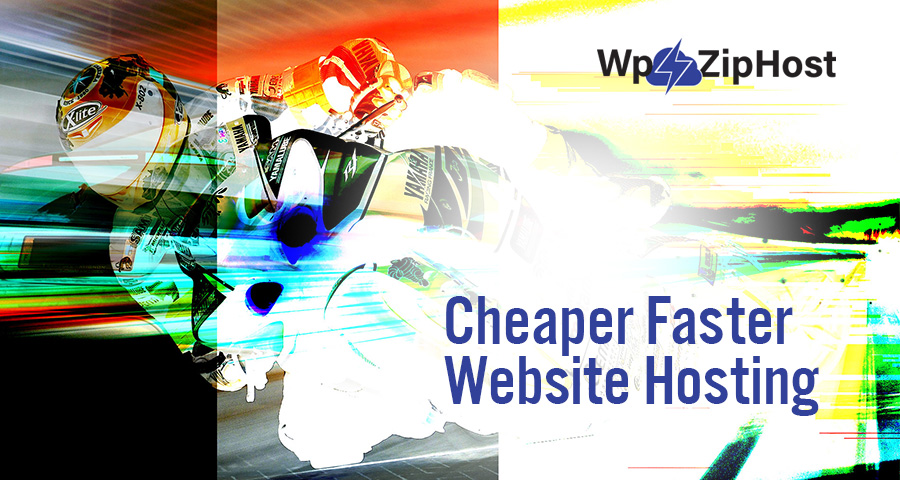 Speed! Speed! Speed!I can't say enough that a slow website will kill business in the first place.
Slow websites are often caused by slow hosting. A speedy website needs good hosting. Shared hosting is often slow, VPS hosting is more expensive. Shared VPS hosting can be a good compromise between cost and speed. We recommend https://wpziphost.com/, it is cheap and fast!
A hosting package typically costs about $80/year. WordPress is a free open source software. You do need a SSL certificate installed. Many hosting companies now offer free SSL, you just need to install it. So your site url will be https://abc.com instead of http://abc.com. This is crucial for protecting any kind of personal information submitted to a website.
If you are interested in learning more about WordPress hosting, you can read on our blog, https://bbdsdesign.com/find-best-wordpress-hosting/
4. Set up a WordPress website
Why WordPress? Because it is the most cost efficient way to build a website. It is all about the cost. When you just start your online business, you want to invest less money and start it quickly. You can set up a simple website with WordPress, then build up on top of it. WordPress has great eCommerce solutions as well.
"WordPress powers 35% of the internet."

WordPress is a content management system (CMS) based on PHP and MySQL. WordPress is used by more than 60 million websites, including 33.6% of the top 10 million websites as of April 2019. WordPress is one of the most popular content management system (CMS) solutions in use.
WordPress is powerful but easy to use. It is a cost efficient way to build and maintain a website compared with other big CMS systems, like Joomla. Basically WordPress can build any type of website: eCommerce, Memebership website, Subscription website, Affliate website, or Event tickets selling, etc. Please find some examples on https://bbdsdesign.com/portfolio/
If you know how to use Microsoft Word, then you know how to use WordPress. You will be amazed by the user friendly interface, and how easy it is to build a website on your own. We have a PDF eBOOK to download, It can bring you up to speed on the basics of constructing your own WordPress website from scratch.
5. Learn online marketing
After you launch your brand new website, the next step is marketing. SEO, search engine marketing, content marketing, social media marketing, email newsletter marketing, ADwords campaign, tracking, analytics, etc. It sounds like a lot of of work. If you are not a marketing expert or you don't have time for it, that is fine. We either can do it for you or teach you how to do it.
Marketing services we offer:
We tailored SEO Marketing Plans for Small Business as a long term marketing plan to boost organic SEO. Organic SEO is necessary to build a strong "search" foundation for your website, but the downside is that it will take at least 3 months to see the results. If you have a bigger marketing budget, we suggest you to do Google Adwords along with organic SEO. This will make sure you have a strong SEO foundation, and also start your online business right away. Internet Marketing Packages For Businesses are designed for your quick success. You can pick any of the packages according to your budget, the sooner you start your marketing the better.
At the end of day, content is king. You may have heard this before, now you need to reexamine this counsel. Content marketing still is the most effective marketing method so far no matter how the technology changes over the internet. You know your content area better than anyone. We will teach you how to write SEO friendly content,  how to link with high ranking authoritative websites; and how to use social media sites to promote your content and engage with your audience; and how to do email newsletter marketing to keep your current customers. Setup campaigns to launch the new products, etc.
Sounds good? Start with a 2 hour SEO class.
Point 6 and 7, I don't think I need to explain it more. To start your own business online with a small investment is so exciting. However this is just a start, use the marketing knowledge you learned, and do it over and over.
Here I want to highlight couple of our great clients, they either just launched their online business or changed business models to adopt the current circumstances.
Pam Florence, Pam just launched an online private cooking class site. Cooking online, it is a new trend!

American Astrophilately, turn a habit to an eCommerce store.
Live and Online yoga classes with Toby Kumin

Live and Online yoga classes with Toby Kumin
​

We have more clients who are

​​

proactive about the situation, and they are well

​​

rewarded

​ for the action taken. ​

There is no failing business, as long as you try and try hard. And don't forget, we are here to help, anytime.