When we develop a website, after optimizing the entire site, one thing we will definitely will do is to register the website with Google Analytics, and install its tracking code on the website. Google Analytics is called GA in short. I can't say enough to tell you how important it is to have GA installed on your website. It is a free tool to gather statistics about your site traffic and performance. Site traffic is, after all, the entire rationale for building and operating a website, so it makes sense to monitor that performance.
What is Google Analytics?
In short, GA is a digital analytics tool to measure the traffic acquisition, audience's online behaviors and final conversion rate. GA can track each step, gather the data and we can use that data to make decisions about how to reach new and existing audiences, improve the website to increase the conversion rate, etc. In short, GA provides the in-depth analytics to help you understand your targeted audiences better and improve your business along the way.
How does GA work?
In order to collect data you need to register with GA and install the tracking code on your website.
GA is a free tool in the Google suite. To register an account go to https://analytics.google.com,  and login with your gmail credentials or register your existing email to associate it with Google services.
Steps:
Register your domain name with GA
Get the tracking code (a small piece of Javascript) and tracking ID
Install the tracking code or ID on your website each page. For the most CMS systems, there is only one header file to control the whole site; so paste the tracking code to the header file. Or simply install GA plugin or extension on your CMS backend.
After you install GA, you can read the report in the next day; over the time, as more data is gathered you will have a better understanding of your website.
Overview of GA report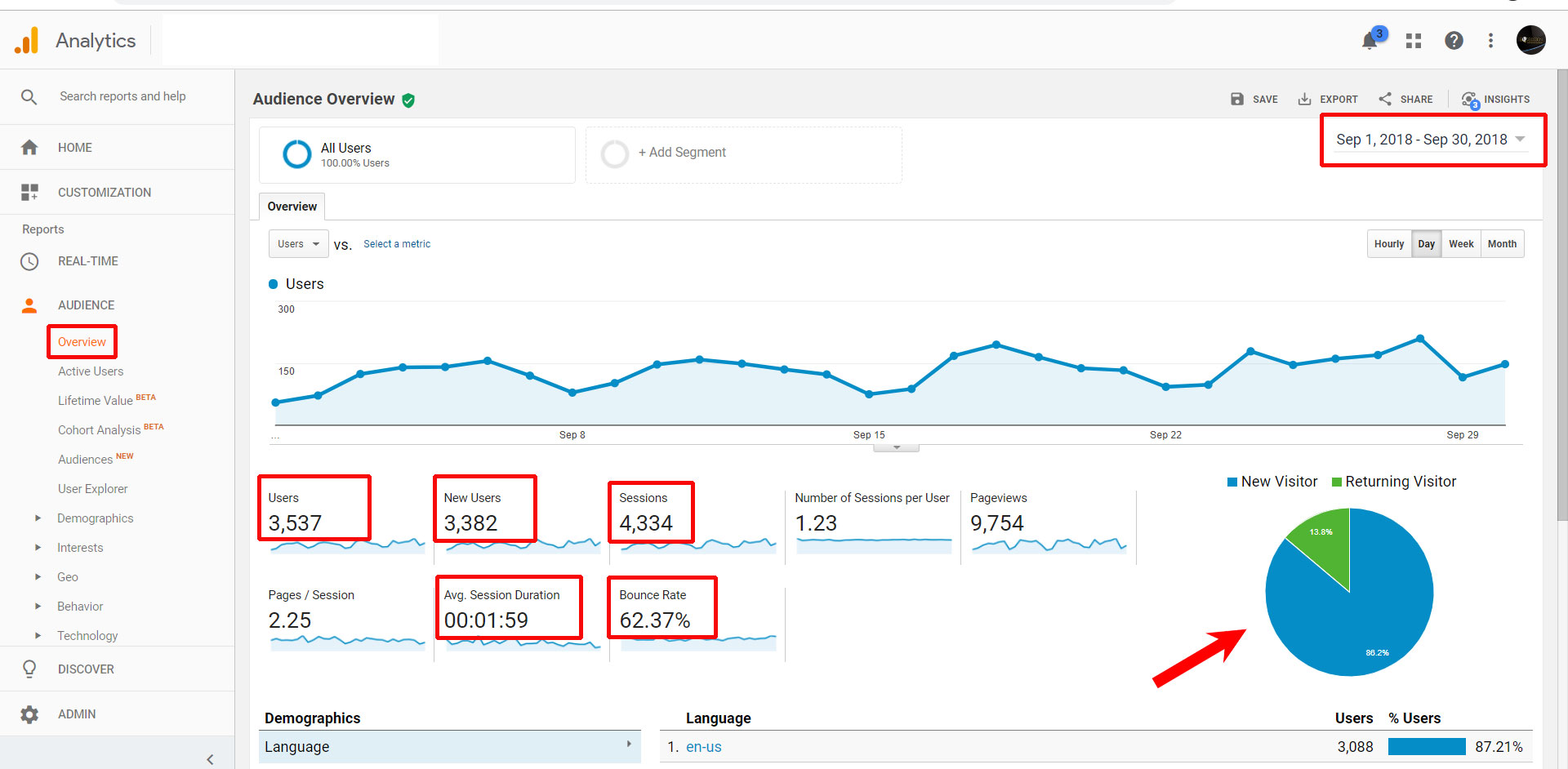 Logon to your GA account and look at the audience overview. Note that you can set the date interval examined in the upper right corner – the default is the last 30 days but you can set this to any interval for which you have data.
How many users visited your website in this period, how many new visitors. Watch the chart on the right, make sure it has a healthy ratio. So you may ask, what is the number of a healthy ratio? We will introduce more in-depth knowledge in our next blog, but for now just remember you need both kinds of traffic: new and returning users. If you don't have many new users, you can't grow your business; if your returning users are less, you need to look at your website again, whether your site is informational.
Sessions: the tracking code will collect and send updated information about the user's activity every time a page loads. Google Analytics groups this activity into a period of time called a "session." A session begins when a user navigates to a page that includes the Google Analytics tracking code. A session ends after 30 minutes of inactivity. If the user returns to a page after a session ends, a new session will begin.
You need to watch the session related numbers to determine how long people are staying on your pages. If visitors stay on your site a longer time, it means they are interested in what they see, and the conversion rate will be higher.
Bounce Rate: A bounce is when a user opens a single page on your site and then exits on the same page. Bounce is not necessarily bad, maybe user found what he/she is looking for, then left, nothing wrong with that. But the high bounce rate could be a signal of a visually dull site; a slow site; or one with poor information, etc.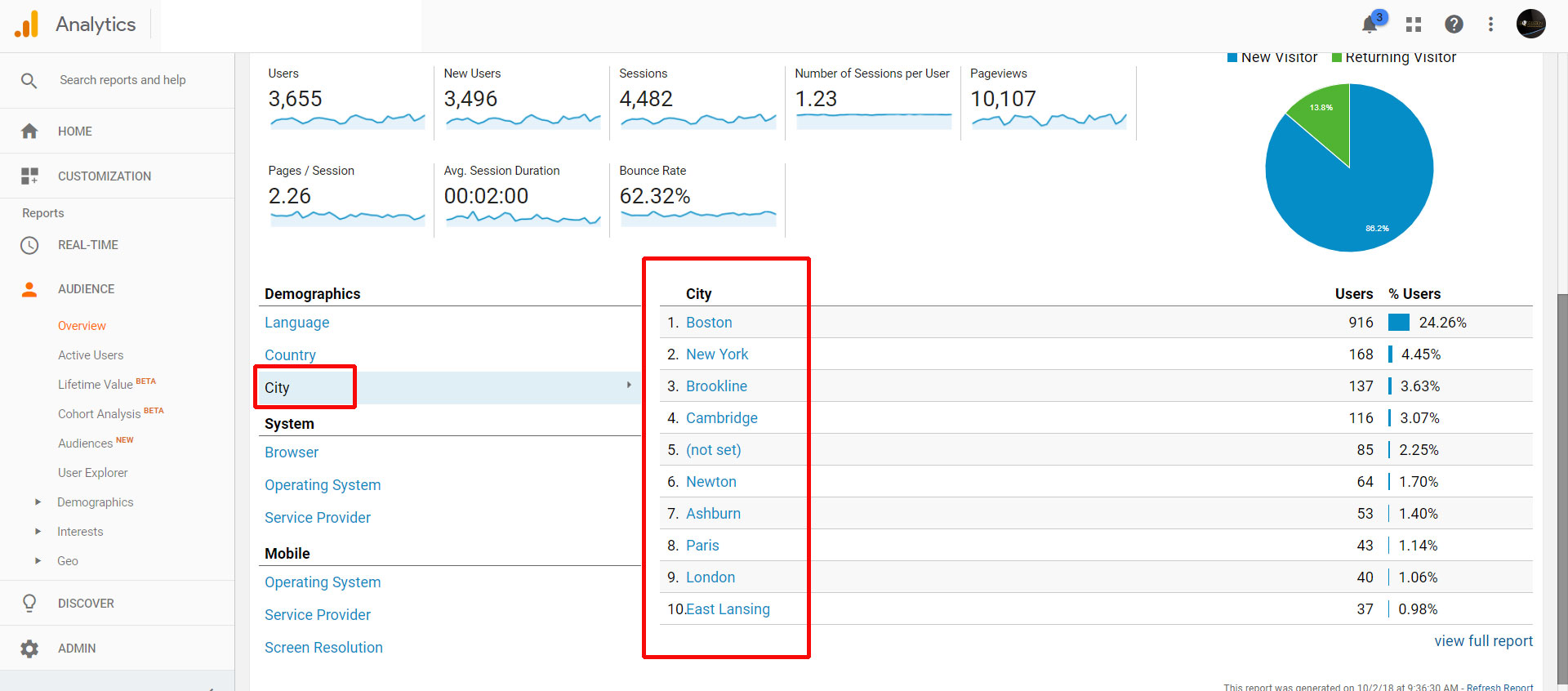 If your business is local, demographics data is another element you want to check out. Click on city tab, look at the traffic percentage from each locations, do you think the data makes sense? If your focus is local, you should see big traffic coming from your location; otherwise you did something wrong.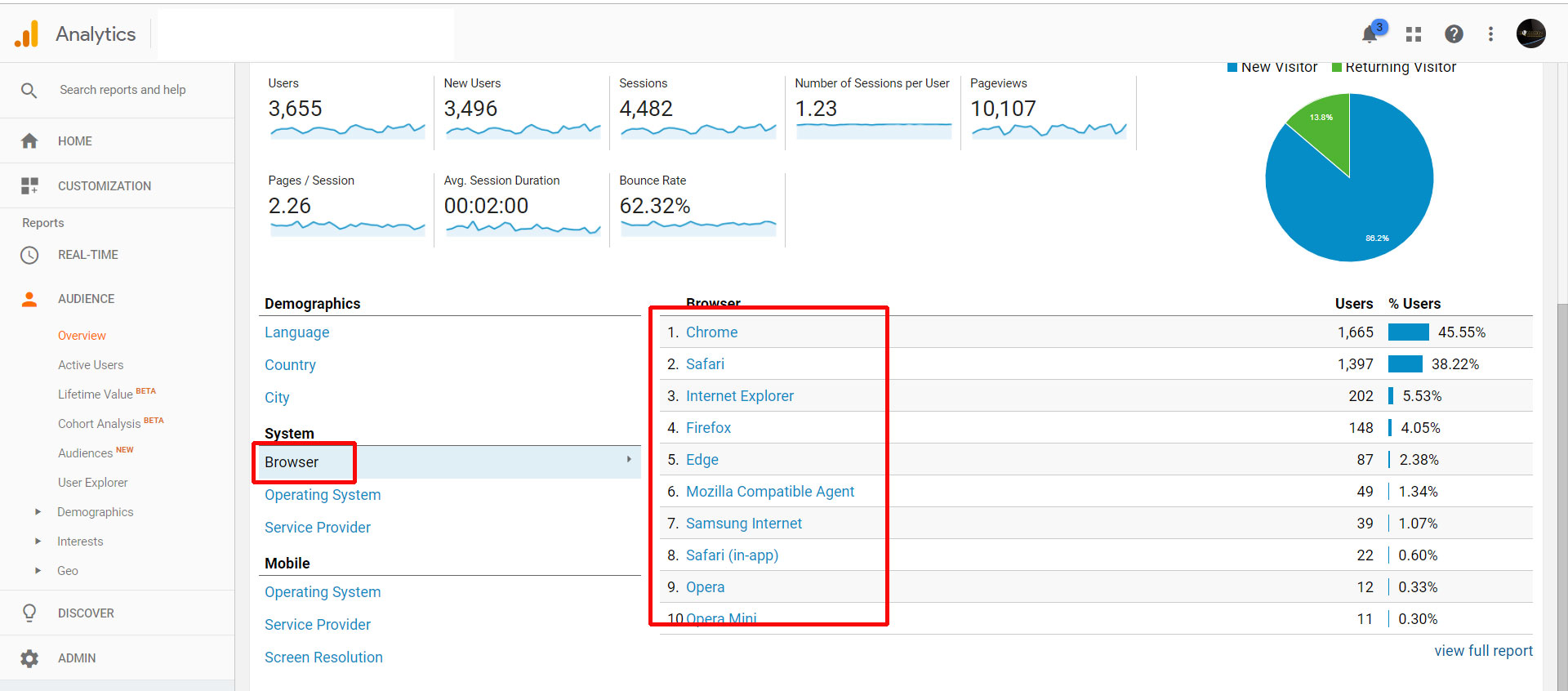 Click on the Browser tab, you will see the major browsers people use to visit your website, make sure your site looks good on these browsers.
GA is full of rich information and data from your website visitors. It combines the art of mathematics and technology to provide a sophisticated system snapshot of most of the traffic related website data you need; the well-designed user interface makes it easy to use for any regular user. In this article, we just touch the very surface. Let us know if you are interested, we are trying our best to use simple language to explain tech details to you and bring you useful information that is immediately applicable.