Many Community Education websites face the challenge of how to integrate online registration to their website. We have a solution so users don't get confused and frustrated to be sent to so many places. Outside registration solutions are specialized and quite good at the underlying nuts and bolts, but they are expensive, inflexible and difficult to stylistically integrate with your front end site. All-in-one solutions with WordPress and Woocommerce can be crafted that will enable you to register students and collect payments online, and to upload classes for succeeding terms by straightforward spreadsheet import. Every aspect of the resulting site will be under your control and have your stylistic imprint. ​If you need assistance,  the standard coding can be handled by anybody with WordPress knowledge. Want to build your own robust online registration system, call BBDS Design at 857 919 4488, or email us at info@bbdsdesign.com.
So far we have done 3 Community Education websites, www.brooklineadulted.org, keefeatnight.org and lately lexingtoncommunityed.com, regarding class online registration.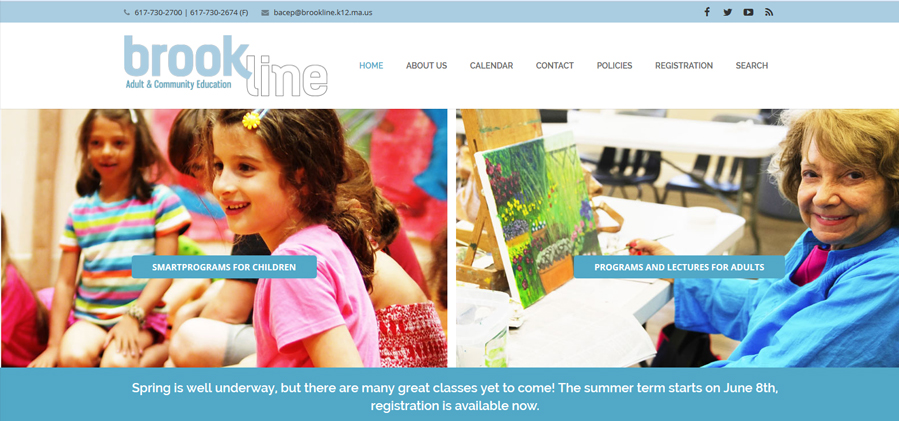 When Brookline Community Education connected with us in 2014 for a new WordPress website, they were building an online registration system on the side already. So we ended up using CampusCE for online class registration and used WordPress to present the information. The interesting fact is CampusCE main site IS a WordPress site, but their online registration still uses aspx. I don't know why, but one thing we know, CampusCE agrees WordPress is a powerful CMS.
When we launched the new Brookline Community Education website, they loved the WordPress site. The only downside was that the CampusCE registration integration was not seamless, people got lost sometimes shuttling between sites.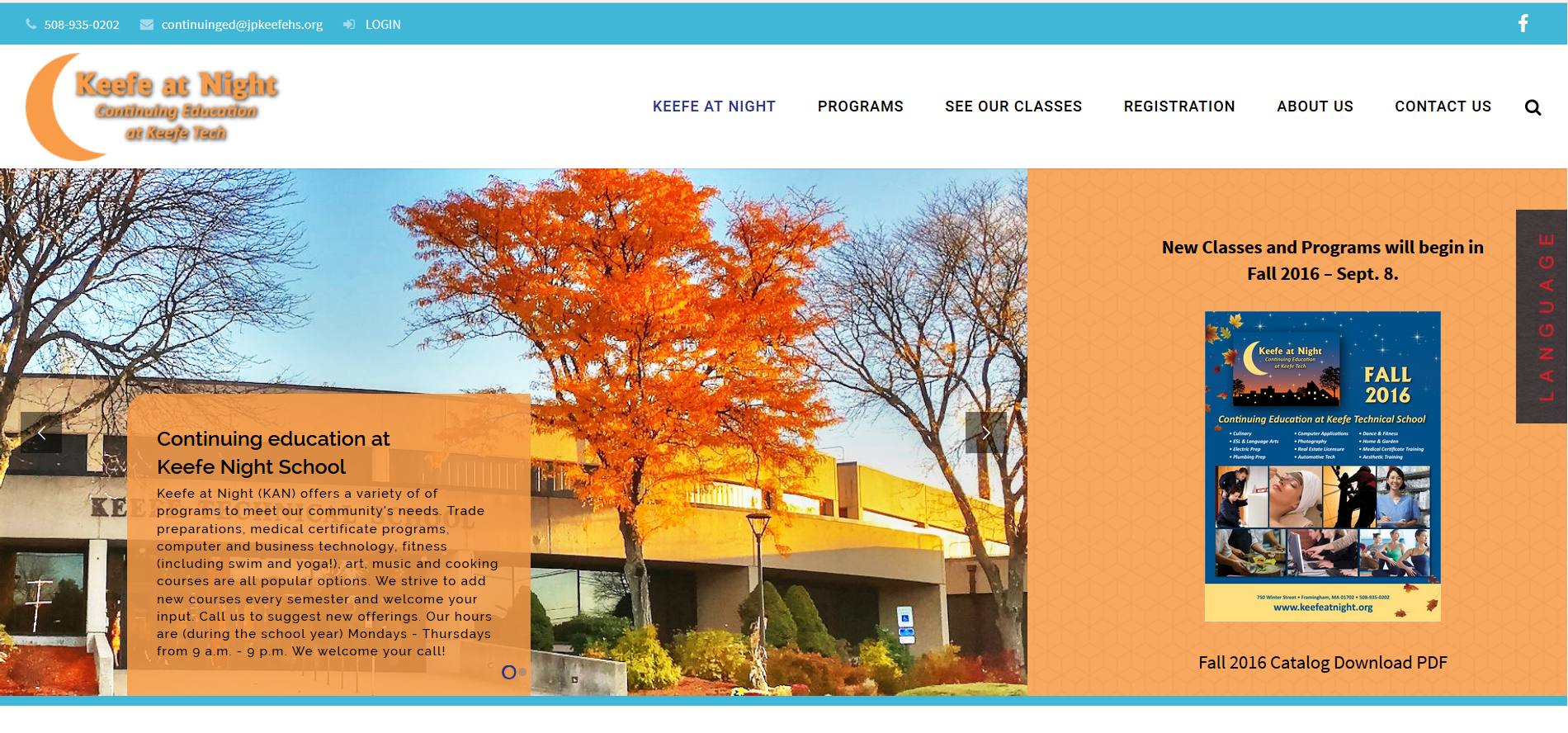 In early 2016, Framingham based tech school Keefe at Night contacted us to redesign their website. We had same experiences as we had with BrooklineCE. Even we pointed out the problems and proposed the online registration solution, but It was hard to convince people to try new things, instead Keefe at Night used Xenegrade to do their online registration. Xenegrade and CampusCE both are known companies on the market, there is no risk to use their products people already are using. Xenegrade's main site also is a beautiful WordPress site, which means all these tech firms adapt new things quicker than the market. Next thing I can see, their product will more toward open source based software  like WordPress.
If you have chances to use Keefe's website, you will quickly see the inconsistent style between the main site with the registration site. Oh well, the good thing is Keefe likes the new website we designed, the best part is the site traffic is increased significantly with the SEO work we did.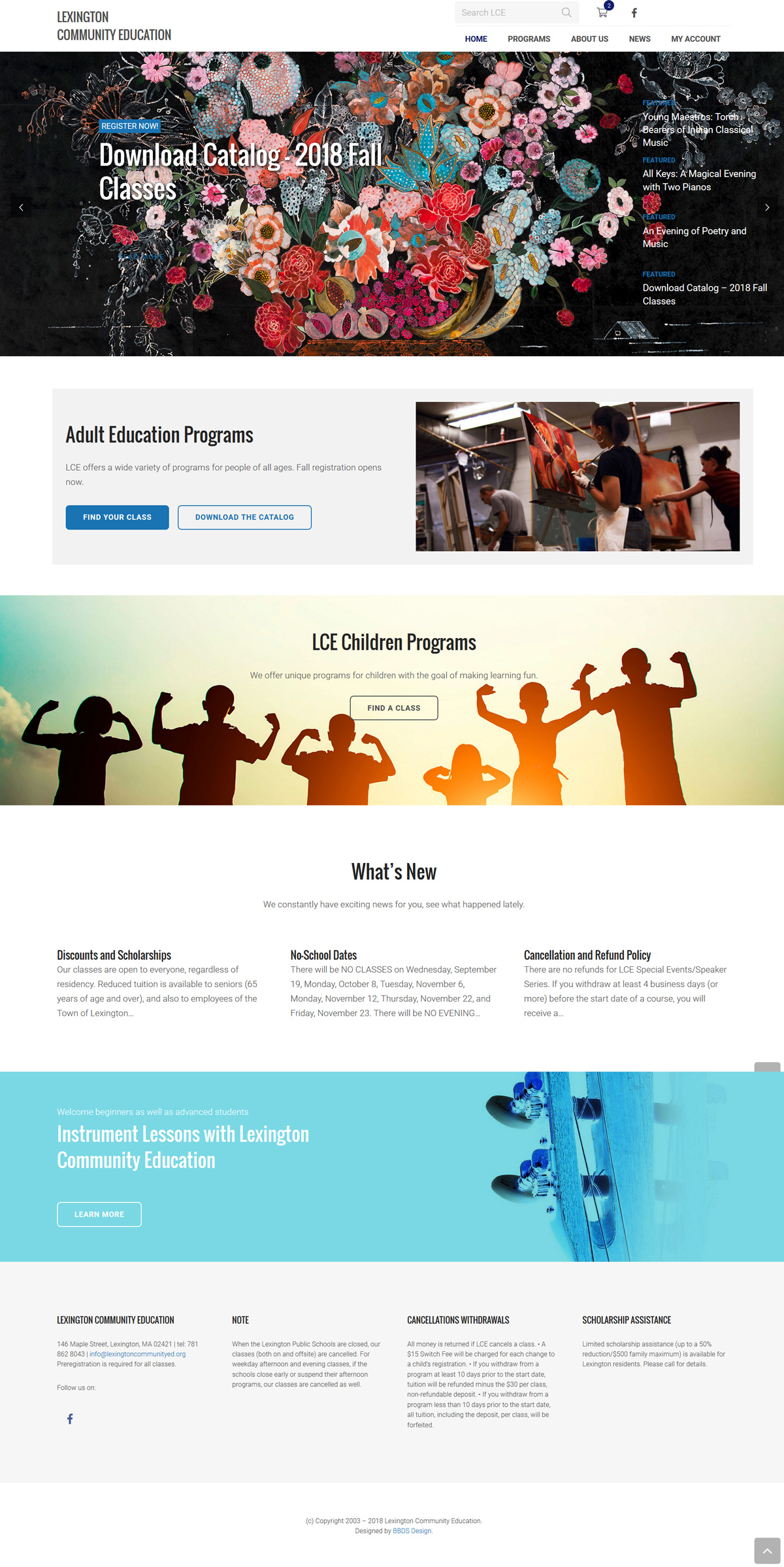 This July, the director of Lexington Community Education Craig found my name from BrooklineCE website. LCE runs lots of interesting programs; it attracts artists, musicians and writers from the local community. Craig always wants to serve more to the community, he would love to  invite world class thinkers and speakers to LCE, but was upset that their website was old, out-of-date and didn't represent LCE at all. When we were talking with Craig, we felt his emotion and all these frustration. We feel strongly we need to deliver the best site, beautiful, user friendly and search engine friendly. We want everybody to love the site.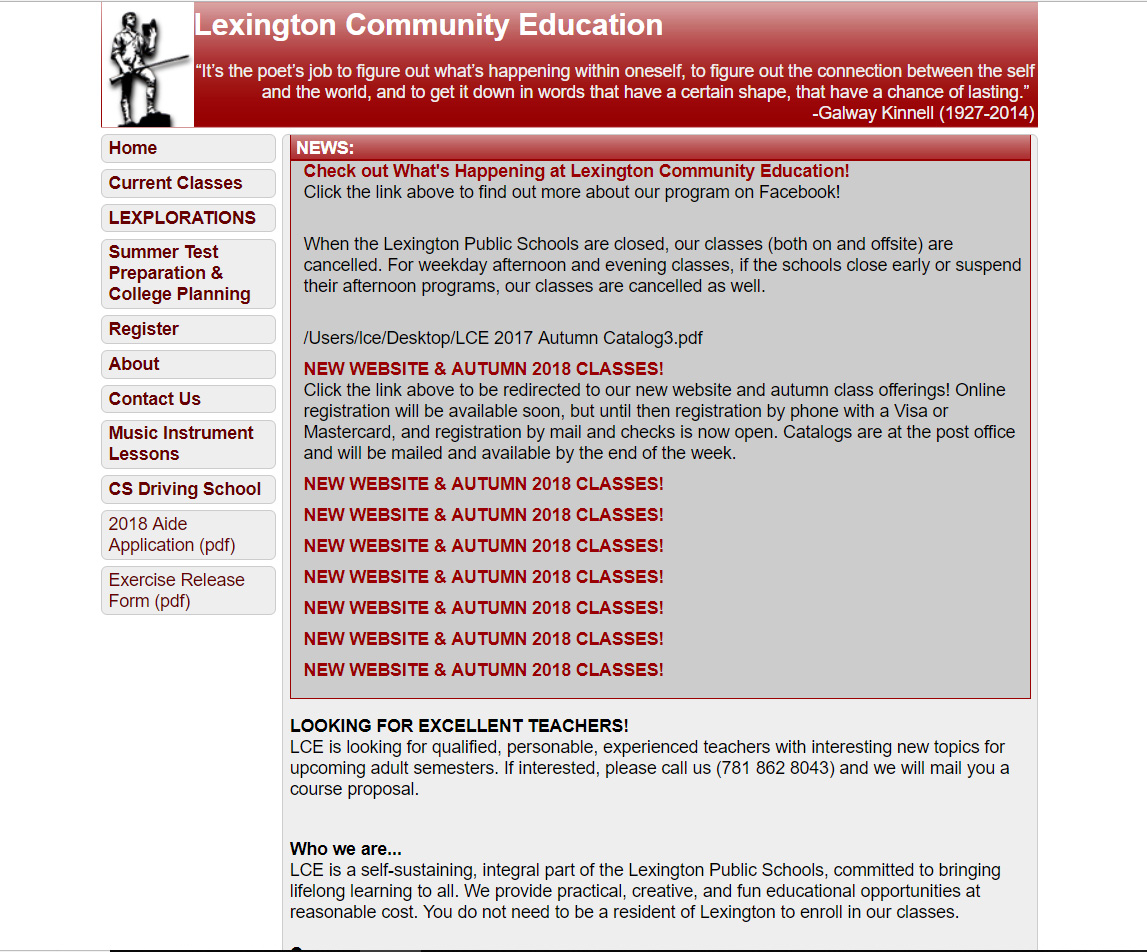 This is the LCE current website, there are lots of space for us to design a clean beautiful website. We decided to put our energy on improving the functionalities of the site. Eventually we delivered an all in one system which presents LCE information, maintains a blog, and includes online registration. The site is user friendly — people don't need to be transferred to third party registration. All content is hosted in one place. We improved the search engine visibility; and the site has consistent style, it looks clean, neat, and professional.
We developed a customized WordPress Woocommerce site that functions as class registration system with a turnaround time of less than two weeks. The whole registration process is smooth and seamless. We think WordPress Woocommerce is suited for use as an online registration system. We are pleased with the results, but I think LCE director Cragis's words are more eloquent than what we say:
This is absolutely beautiful!  It's actually a bit emotional to look at after so many years of suffering with the old terrible site, and not being able to have online registration.  I can't thank you and the team enough for this beautiful, beautiful, and pleasantly functional site. BBDS is the Best!
Craig Hall
Director, Lexington Community Education
Contact BBDS Design now, let's together work on your next project!