If you offer classes, or organize events, and you still send flyers or catalogs to each household, or use paper to process registrations, or you haven't found an online registration platform that fits your needs, then this article is for you. I will introduce BBDS Design's Class Registration system: it will automate your registration process, and get the job done faster, better, and more efficiently, and save your time and money.
We have collaborated with various local community education and non-profit organization initiatives in Massachusetts. These entities offer classes and organize events, primarily relying on paper catalogs for class listings and conducting in-person paper registrations. However, this traditional approach is increasingly revealing its limitations and challenges.
The drawbacks include:
It is expensive and time consuming to make, print and distribute the catalog or flyers.
It is not flexible and more time-consuming to update the information on paper materials.
Reach smaller audiences compared to online channels.
Labor intensive and inefficient processing of paper work.
In light of these downsides, transitioning to digital platforms for class listings, event promotion, and online registration can address these challenges and provide a more efficient and accessible experience for both organizations and participants.
On the market, there are some cookie cutter systems offered by some platforms. They are OK to use but lack some details. It is designed for a general market. BBDS Design is specialized on customized systems. We listen to your needs, ask you about your challenges, and learn your business. After we developed several systems for adult classes events listing and registration, kids summer camp classes listing and registration, language school classes listing and registration, culture center events listing and registration, we have perfected our classes listing and registration system.
BBDS Design's Registration System includes the features:
Integrate the registration to your website. Keeps the branding consistent, and enhances search engine optimization.
Classes (or events) listing presents a lot of data for easy comparison and sorting. It is an e-catalog, displaying a user friendly way to search and find the classes.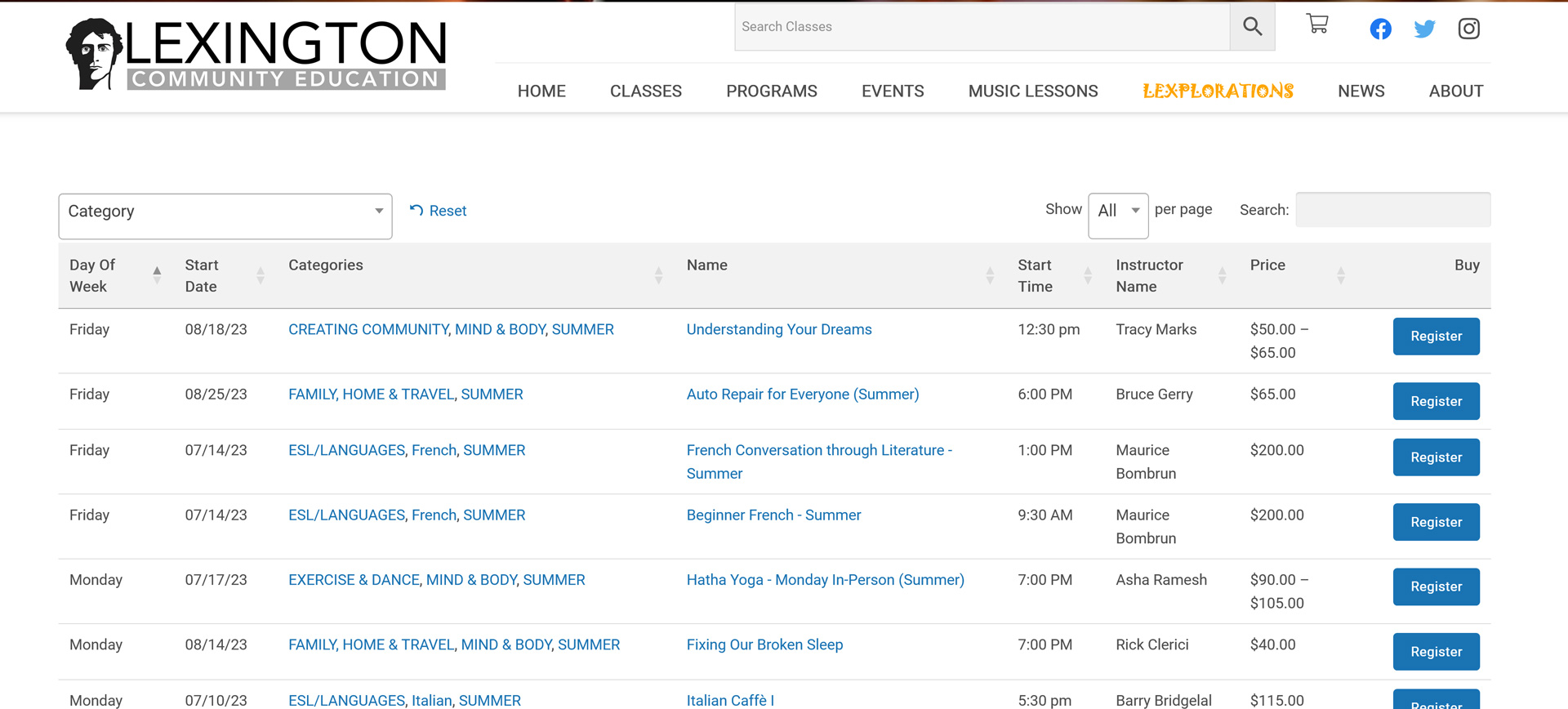 Add membership to the website & offer member discounts. Provide other member benefits, like restricted content for members only. This can increase revenue.
Custom registration process is user friendly, and reduces the order drop rate. For instance, features like:

New students VS returned students with different registration fee
Bilingual descriptions
Parents register for multiple children
Flexible payment methods: Pay with cash, check, credit card or installment
More features of BBDS design Registration System
Built-in SEO which allow you to promote your content on search engines and social media sites.
Provide opportunities for interactive engagement, discussion forums, and online resources that enhance participants' learning experiences.
Reduce administrative burden, reduce errors and increase efficiency.
Allow you to gather data on participant preferences, attendance patterns, and other valuable metrics, which can inform future program planning.
BBDS Design is constantly adding more features to the course/event registration system and we are determined to build the best product for you. If you have questions, please contact us.