How to sell a course in WordPress?
How to use WooCommerce as a catalog?
How to sell classes in WooCommerce?
How to display all classes on one page?
Are these questions familiar with you? We have been asked this a lot, so we are going to answer all your questions in this article.
A Tabular Presentation Works Well for Non-Visual Products
We all know WooCommerce is the best eCommerce plugin by far. When people build a WordPress website and want to sell courses or classes, WooCommerce will be the No. 1 choice. For instance, the Community Education type of website runs lots of classes all year around. Local non-profit organizations offer different courses for different interests. It sounds great. But the problem is that the out-of box display of WooCommerce shop page just doesn't look right for selling non-visual products, like a class. It is often difficult to come up with a beautiful product picture for a product like a class.
Tables Present a Lot of Data for Easy Comparison and Sorting
People prefer to look at the compacted information on one page, like a catalog, so they can peruse a batch of offerings in one screen. A compact tabular format works well in situations where there are multiple items / products / courses / pieces / variations to show. This is not limited to e-commerce; WooCommerce can easily be adjusted to only show items from a catalog with no store or option to purchase. A catalog with categories and tags makes your offerings easier for visitors to find and compare, and automates the SEO labeling of your content for search engines.
Advantages of Table Presentation
Compare products more easily. When products are listed in a table, it is easy to see the key details of each product side-by-side, such as the price, title, description, and availability. This can help consumers to make more informed decisions about which products to purchase.
Find products more quickly.A tabular listing can be sorted by different criteria, such as price, title, or date added. This makes it easy for consumers to find the products they are looking for quickly and easily.
Get more information about products. A tabular listing can include additional information about products, such as reviews, images, or videos, and also custom fields. This can help consumers to learn more about the products before they make a purchase.
Purchase directly from the table listing. This option can increase sales because it eliminates the need for consumers to click through to a separate product page to make a purchase. This can save consumers time and effort, and it can also make the checkout process more streamlined. It will increase impulse purchases and reduce cart abandonment.
Include thumbnail images in the table. Many products or services lend themselves to visual representation.
This is an example that we have done for Lexington Community Education.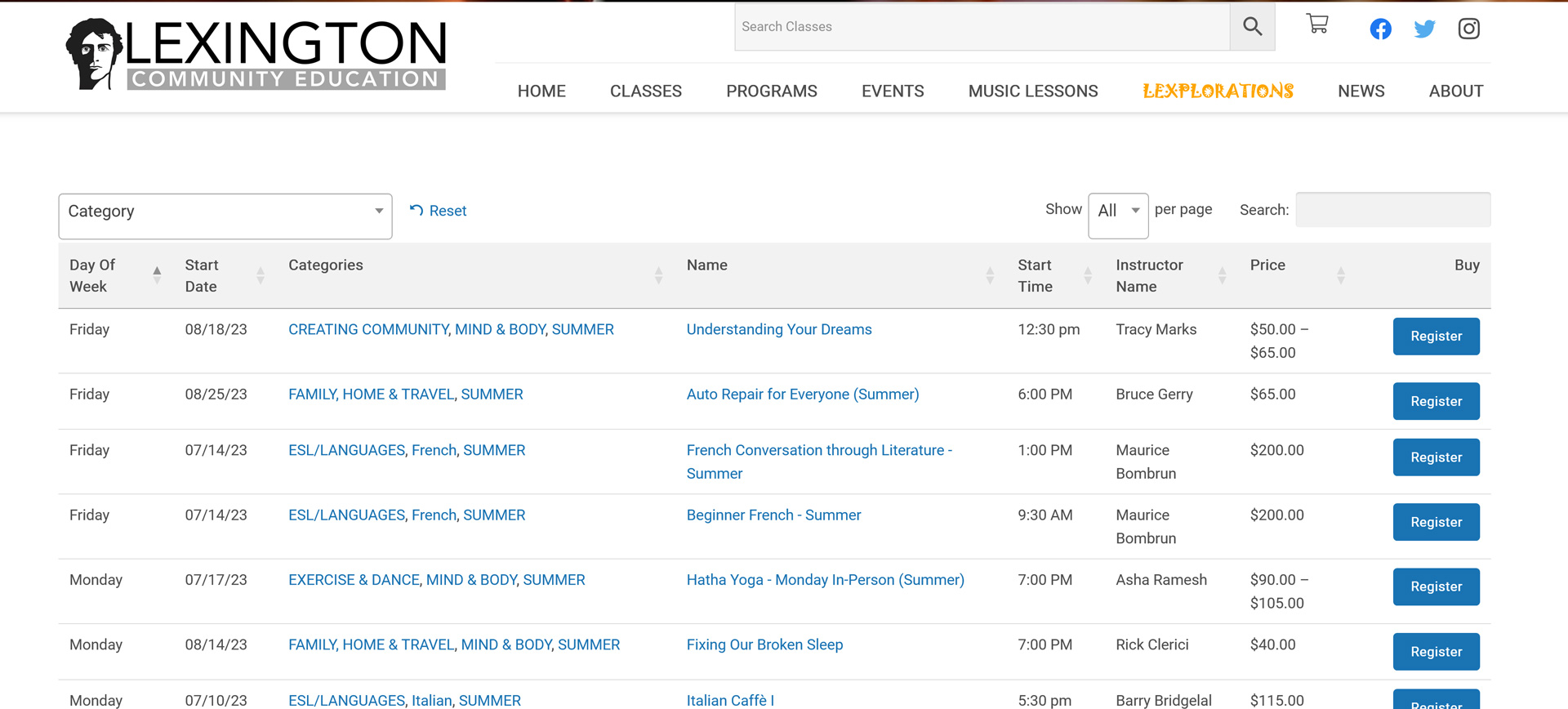 This is how we did it.
To sell classes using WordPress WooCommerce and display them as a table catalog on one page, follow these steps:
Install and set up WooCommerce:

Install the WooCommerce plugin from the WordPress dashboard.
Go through the setup wizard to configure basic settings, such as currency, payment methods, and shipping options.

Create your classes as WooCommerce products:

In the WordPress dashboard, go to "Products" > "Add New."
Create a product for each class, providing a title, description, price, and any other relevant information.
Assign the classes to a specific category if needed.

Install and set up a WooCommerce Table plugin:

There are several plugins available that can help you display your WooCommerce products in a table format. This is the one we tested and liked it. Now we are selling it with a big discount price, $69/year, buy a license now.
Configure the settings of the plugin to display the product information you want in the table, such as title, price, description, and any custom fields you've added for class details.

Create a new page for your class catalog:

In the WordPress dashboard, go to "Pages" > "Add New."
Give the page a relevant title, such as "Class Catalog" or "Courses."
In the content area of the page, insert the shortcode provided by the WooCommerce Table plugin to display the table of classes.

Customize the appearance of the table:

You can customize options to control the table's design and layout. Adjust the settings to match your website's branding and style.

Set up the checkout process:

Make sure your WooCommerce settings include a suitable payment gateway for customers to purchase classes.
Test the checkout process to ensure it's working correctly and securely.

Promote your class catalog page:

Use your website's navigation menu to link to the Class Catalog page.
Promote your class offerings through other means, such as social media, email newsletters, or advertisements, to drive traffic to the page.
This table plugin has so many features you can use to customize your needs:
Features :
FAST ONE-PAGE ORDERING
Order multiple products and variations with one clickOften classes do not lend themselves to display a
Quickly find products with instant search and sort
Ideal for WooCommerce virtual products, wholesale, order forms and restaurants
CREATE TABLES YOUR WAY
Add tables anywhere using a shortcode, Gutenberg block, or enable on shop and category pages
List hundreds or even thousands of products!
Show any data you want: specific products, custom fields, attributes, taxonomies, SKU, videos & more
EASY TO SETUP AND CUSTOMIZE
Simple & intuitive interface
Incredibly flexible & easy to customize
Designed for developers or store owners with no coding skills
By following these steps, you can create a user-friendly and visually appealing table catalog of your classes using WordPress WooCommerce, making it easier for potential students to find and purchase the classes they are interested in. Call us if you have any questions.