To help users browse the web safely, Chrome indicates connection security with an icon in the address bar. Historically, Chrome has not explicitly labelled HTTP connections as non-secure. Beginning in January 2017 (Chrome 56), Google will mark HTTP pages that collect passwords or credit cards as non-secure, as part of a long-term plan to mark all HTTP sites as non-secure.

Google Security Blog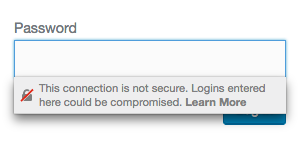 You may not pay attention on Google's next move, but when you try to logon your site or fill the online forms from Chrome, you will see the security warning from Google. That is just a new warning in most modern browsers that is triggered when you enter passwords or other form data over an unecrypted connection. These warning will become more strident over time. This can put off customers when they fill in a contact form, for example.
A lot of companies view this as a profit center and gouge you one way or another for a certificate – they make it difficult to install a cheap third party certificate or charge an install fee. Our hosting comes with a free SSL certificate that is easy to implement, we will install on your site free. 
If your existing site is not hosting on BBDS design, we can help you to install. There is an hour or two of work involved in setting up SSL on your site to ensure it is fully compliant and you get the green padlock on every page.
Contact us today, your website is crucial for your business!