WordPress is by far the best software when it comes to building websites. WordPress is powerful and easy to use. WordPress sites are cost-effective to build and maintain compared to any other large website builder.
WordPress is a content management system (CMS) based on PHP and MySQL. 43% of websites are WordPress sites and 65% of CMS sites are WordPress sites. In short, you can build a simple website with WordPress and then build on it. Did you know that many famous big names use WordPress to power their websites? For example, https://www.whitehouse.gov/.
Here we only talk about CMS software. CMS stands for Content Management System. This means you don't need to learn html code and any programming. With the help of a CMS system, you can build and edit your website by yourself. It is important to choose a platform before designing a website. With so many options on the market, which one is right for you? For bloggers or people just starting out with a website, you want to put your money in the right place and reduce mistakes. I'll tell you what I've learned from the past 10 years of web design experience. I have listed 4 things to evaluate when choosing a platform and they are:
User friendliness. The platform or software needs to be easy to use with a short learning curve.
Search engine friendly. The platform or software is carefully developed for SEO and it will ensure that search engines can properly index the website.
Powerful. The platform or software will support all the features you need to continue growing your website.
Not expensive.
The popular CMS software in the market are:
WordPress
Joomla
Drupal
Squarespace
Wix
Weebly
Shopify
Below picture is the market share of each one.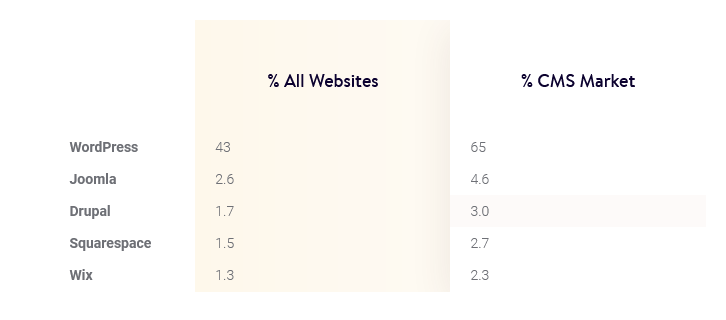 WordPress is definitely the most popular. Now let's talk about why I don't recommend others.
Joomla and Drupal:
Pros: They are well-designed CMS systems that are powerful and secure.
Cons: Long learning curve, designed for professionals. It will cost more to build and maintain this type of website.
Squarespace and Shopify:
They are platforms where you can use their systems and services to build your website. They are similar, but have a different focus. Squarespace is more focused on website design and they have a lot of beautiful templates to use; Shopify started out as an e-commerce platform with more marketing tools for website promotion.
Pros: Because both are software and servers, you don't actually own your website, you just use their services. You do not need to update the system.
Cons: When you want to leave them, you need to start over. Price is on the high side. At Squarespace, the low-end plan is $12 per month; Shopify is $29 per month. Eventually you'll find that you actually need to upgrade to use more features. The bill can add up quickly.
Wix and Weebly:
They are website builders. You can build your website visually using their drag and drop tool. Building simple websites is great, but building multifunctional websites has limitations. So their products still have a lot of room for improvement.
Now let's talk about the cost of WordPress.
WordPress is a free and open source software that can be used anywhere. WordPress.org is the site where you can get all the information about WordPress and download the latest version of WordPress, themes or plugins. You need to purchase a hosting package to install WordPress. Hosting can be as low as $7 per month.
WordPress.com is a commercial hosting platform dedicated to hosting WordPress sites. Advantages of WordPress.com as a hosting option: Fast, SEO friendly, secure system. Cons: Very expensive.
In summary: WordPress is open-source software, and the cost of owning a website is much lower. WordPress has a huge community on the internet and has a lot of support. WordPress can build any type of website you name, e-commerce, membership site, subscription site, membership site, or event ticket sales, etc. Please find some examples at https://bbdsdesign.com/portfolio/
In the next article, I'll discuss how to choose a host for your WordPress site. Now we have a hosting package on sale, if you are planning to start a website, this is the best deal for you. Check out https://bostonwordpressclasses.com/all-classes/.