WordPress plus Woocommerce has become the most successful eCommerce solution on the internet. WordPress is the top choice in terms of building a website. WordPress is popular for its user-friendly editing interface, a plethora of cusomizable themes, and powerful plugins. WordPress is perhaps the dominant platformon the internet and is used by 41.4% of the top 10 million websites as of May 2021. In 2015, the most popular eCommerce software Woocommerce was acquired by Automattic, WordPress' parent company. WooCommerce has the largest market share of all ecommerce platforms at 23% in 2021.
Slow eCommerce Sites Bad for Business
Building a web shop is simple, easy, and cost-efficient. But there are so many slow eCommerce websites; eCommerce adds an additional layer to a website and can contribute to slower performance. On the internet, lack of speed kills. Slow site performance is a business killer. You should do everything possible to speed your site, and the essential first step is to use high performance hosting.
Picking a hosting option can be overwhelming. In this article, we will give you some pointers on how to pick a hosting company that fits your needs.
If your eCommerce website is on shared hosting, it likely will be slow.  Most shared hosting providers overcrowd their servers to make their prices look appealing. The hosting is sharing hardware and resources at some level, and there is a finite limit to those resources: bandwidth, database lookups, memory, CPU usage, and storage speed. Any of those can be a bottleneck. The more sites sharing those resources the greater the frequency of slow performance. In general, shared hosting is cheap. Speed and performance are hugely important to user experience – people bounce from slow sites and seek faster ones.
VPS hosting is a step up from shared hosting.  For small businesses or individuals, shared VPS hosting is a good solution to balance cost and performance. These hosting providers pay more attention to the website performance than others. Since 2009 we started our web design business, we have worked with many hosting companies. Below is our shortlist of the best hosting options we have found.
Wpengine $30/month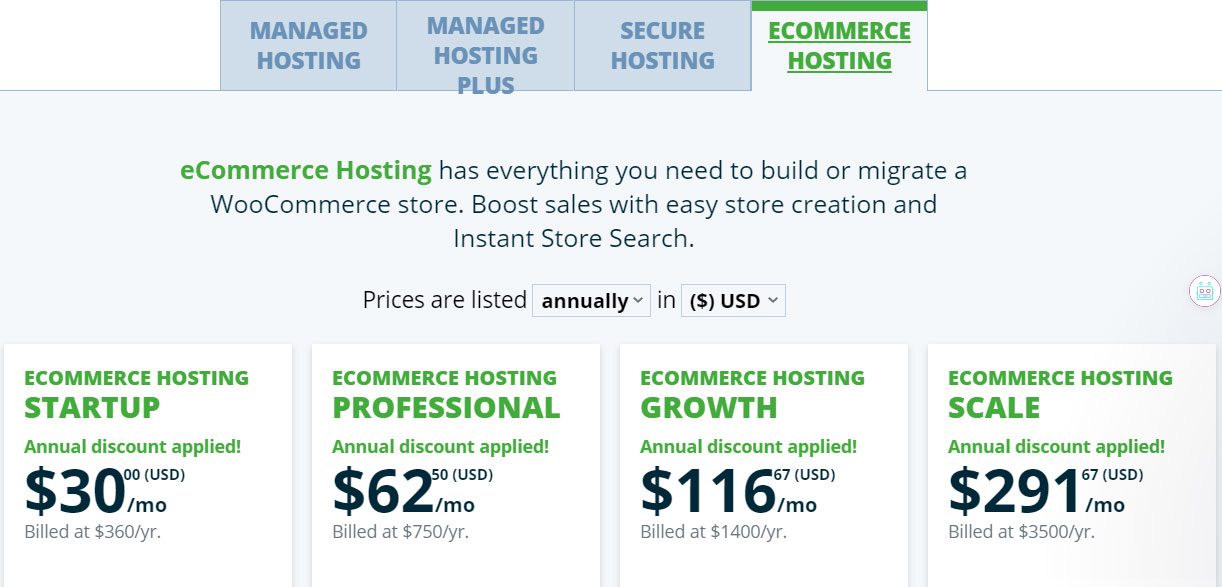 Wpengine is a hosting company specializing in WordPress hosting. Their one-click staging install is amazing. It is useful if you have a big database and complex custom programming, and website traffic is high. Big changes should be done on the staging site first, before pushing to the live site.
Wpengine provides good service with price the only major con. Wpengine pricing can be too expensive for a small business, especially for a new web store. Take the cheapest package, $30/month. It means you already have a cost no matter whether your products sell or not. For any new web store, it may take two weeks or longer just get indexed by search engines. Then you need to do marketing to promote the products. So it will take a while to make the first sell. $30/month is too much.
Conclusion: Wpengine is designed for medium to large business sites and may not be a good fit for cash-strapped businesses getting their feet wet in ecommerce.
WordPress.com $45/month

WordPress.org distributes and maintains the free, self-hosted version of WordPress. WordPress.com is a hosting platform and a software platform.  Since they are from the same family, technically wordpress.com is a very good option to host your online store there. It is fast, secure and convenient. But, again THE PRICE! $45/month, it is even more than Wpengine. It is not cost friendly to small shop.
BBDS Design $80 annually ($6.60 a month)

BBDS Design a web design agency located in Metrowest Boston, MA. Since 2009, BBDS Design has worked with local small business owners. We understand small business needs. We established the relationship with a great hosting provider, and designed a tier plan for small business owners.
BBDS Design is proud to offer customers secure server network hosting in one of the largest colocation secure datacenter networks in the US, TierPoint, LLC. Our diverse and powerful network featuring providers such as Level 3, Internap, AboveNet, and TW Telecom provides our customers with optimum speed and reliability. We offer high speed connectivity from multiple carriers and clean IP addresses in a true carrier neutral environment. We've built an ultra-high performance cloud infrastructure and placed our managed shared VPS hosting squarely on top of it. We average 99.99+% network uptime, the best in the industry.
For new web stores, we suggest our $80/year shared VPS hosting package to get you started. When your business grows, you can decide to upgrade to the next tier. This will keep your costs low during your startup ecommerce phase.
For existing websites hosted by BBDS Design that are contemplating starting in ecommerce, we will pick a hosting package for you according to your data usage and traffic. This will ensure you only buy what you need, and don't waste money. Our expensive hosting package only costs $20/month, but the speed is as good as wpengine and wordpress.com. Because we are small, we  take extra care of our clients.
Conclusion: for small business owners, BBDS Design is your No. 1 choice. We do more for less.