Fast Websites Require Fast Hosting
Speed and performance: The hosting service should have fast server response times and provide optimized server configurations to ensure your website loads quickly.
Why does your website need fast hosting? People are impatient and will leave websites that load slowly. The figure I used to use was 10 seconds, as in visitors will bounce from a site that takes over 10 seconds to load. Today, the statistics are that sites that load in 2 seconds have a 9% bounce rate, while those loading in 5 seconds have a 38% leave rate.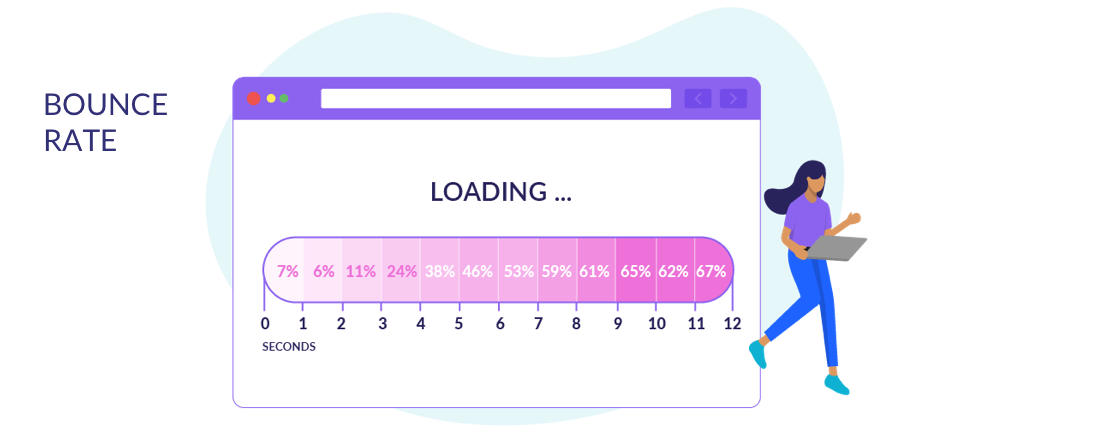 Fast Hosting is One Component of a Fast Website
How do you find fast hosting?
Short answer: Choose to host with BBDS Design. We are committed to keeping our hosts uncrowded, speedy and affordable!
Choose a host that runs uncrowded servers. Since the consolidation of the hosting industry, those hosting companies are harder to find. You can do a reverse IP lookup on some hosts to determine how many sites reside on one IP address.
Run your own VPS. This can be expensive, but is a good choice if you have excellent technical skills and the time.
Run a managed VPS. A managed VPS is more expensive because of the on-call sysadmin services.
Run a dedicated server. More expensive still, and requires even more technical skill, but in most cases the network infrastructure is provided by the facility.
Run your own hardware on your own network infrastructure. You are brave, intelligent and may have deep pockets. You will have to have considerable technical chops.
BBDS Design runs it own managed VPS servers and is committed to keeping them small, speedy and inexpensive. Over the years we have continually upgraded: adding a server, more memory and CPUs, and faster web server software (Litespeed). When the admin panel provider cPanel was bought by a vulture capitalist, we committed to paying the much higher license fees to offer our hosting clients the best hosting admin panel on offer (in our opinion).
Our commitment is to keep our hosting uncrowded, speedy and inexpensive.
BBDS Can Help You Speed Up Your WordPress Site
BBDS can perform a performance review and tuneup on your WordPress site

Badly coded plugins or themes are frequent causes of slow websites
Large pictures mean more data transfer – BBDS can optimize your images

We can add caching to your WordPress site – caching will speed up almost any WordPress site
If BBDS hosts your site, we can add Litespeed caching, which integrates with the server-side cache, and with the Quic.cloud CDN service run by Litespeed.
BBDS Hosting Has Valuable (Free) Addons
Control panel: The hosting service should offer an easy-to-use control panel that allows you to manage your website and hosting account.
cPanel admin interface – the most complete and easiest to use hosting admin panel
One click installs of WordPress and many other web apps with the Softaculous app installer
ImmunifyAV malware scanner in your cPanel – BBDS routinely scans all sites every month
Automated database backup by BBDS multiple times per week
Complete VPS backup by the hosting company
Scalability and Support
We provide convenience and personal service to our clients with a reasonable price. We don't recommend client buy expensive hosting when they just start their business. The hosting services we offer allow clients to easily scale up or down hosting resources based on their website's needs. We are always available to assist clients with any technical issues that arise.
Competitive Price:
Compared to the large WordPress focused hosting providers WPengine or WordPress.com, BBDS hosting price is much less expensive. This is a valuable service for our clients and builds trust and loyalty.
We design hosting packages for clients to fulfill a variety of use cases. For a regular small website, the hosting cost can be as low as $80/year. Please view all options in our Shop page. If you don't know which one is for you, please feel free to contact us.